Uncertified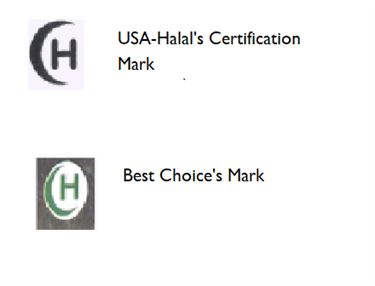 USA-Halal Chamber of Commerce certifies meat and poultry products that have been slaughtered and prepared in accordance with Islamic law—a process known as "halal". USA-Halal holds an incontestable certification trademark which is a crescent moon and the letter H. For those who adhere to halal dietary laws, the certification mark is critical to their food purchasing choices. As a certifying body, USA-Halal enters into license agreements with food manufacturers. In exchange for adhering to USA-Halal's food guidelines, the licensee can display the certification mark on its products.
USA-Halal entered into a certification license agreement with Best Choice Meats, Inc. As part of the license to use the certification on meats and poultry, Best Choice had to submit monthly production reports to USA-Halal. Three years into the license, Best Choice stopped submitting the reports. USA-Halal terminated the license. Best Choice told USA-Halal that it stopped using the certification mark. Technically, that may have been true. However, Best Choice started using a trademark that looked a lot like the USA-Halal trademark.
USA-Halal brought suit against Best Choice, alleging that Best Choice's mark would create a likelihood of confusion with USA-Halal's certification mark. The court granted USA-Halal's motion for a preliminary injunction. The court rejected Best Choice's arguments that the two marks were not similar and USA-Halal would not suffer irreparable harm if Best Choice kept using its trademark. The court held that the two marks were nearly indistinguishable. An average consumer wouldn't notice the differences between the two trademarks. So, allowing Best Choice to use the similar trademark would put USA-Halal's reputation at risk of continuing harm. The court also found that there was a risk of public harm in letting consumers be confused about whether or not Best Choice was certified by USA-Halal. The court then balanced the equities. The court didn't order a recall of the uncertified meat because that would cause undue hardship to Best Choice. And the court allowed Best Choice to sell off any meat that had already been packaged with the trademark prior to the entry of the order.
WHY YOU SHOULD KNOW THIS. A certification mark is a great way to protect a system. It can be used for anything from food preparation to education methods to veterinary services to theatrical trade specialties and so on. Famous certification marks like the Woolmark logo and the Underwriter's Lab logo, bolster the products they certify for the benefit of their licensees. But as Best Choice learned, the benefits of the certification mark do not continue after the certification license ends. On another note, if an organization is thinking about developing a certification mark, qualifying for a certification mark takes some preparation. There are also ongoing obligations to make sure that certification mark licensees comply with the terms of being certified.