Brewsky v. Brewsky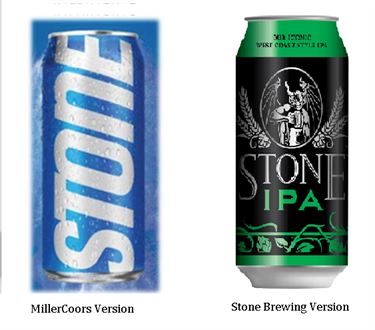 In Brief:  David's beer brand wins over Goliath's beer brand.
Here's What Happened:
Craft brewer, Stone Brewing Co., LLC, adopted the name STONE for its brand of beer in the early 1990s. Stone Brewing registered the trademark in 1997. It became an incontestable trademark and Stone Brewing has maintained its registration. Stone Brewing become the largest brewery in Southern California and the ninth largest craft brewery in the United States.
MillerCoors (now Molson Coors) launched its KEYSTONE LIGHT beer in 1989 and obtained a registration for the mark. Beginning around 2017, MillerCoors saw the sale of Keystone Light slipping so it decided to update its brand and its advertising campaign. MillerCoors rebranded to prominently feature the word "STONE" separate from "KEY" and launched its "Own the Stone" rebranding campaign. 
In 2018, Stone Brewing filed suit for trademark infringement. Stone Brewing claimed that consumer confusion between its STONE brand and MillerCoors STONE brand had led to a 20% decline in sales, amounting to $174 million in lost profits. Stone Brewing also sought an additional $41 million in "corrective advertising" damages to reverse the effects of consumer confusion.
MillerCoors argued that there was no credible confusion between Keystone Light and any of Stone Brewing's beers. MillerCoors also argued that it had no intent to trade off of the goodwill associated with the STONE trademark.
After a three-week long trial, the 8 person jury found that MillerCoors did infringe on Stone Brewing's trademark, but that the infringement was not willful. The jury awarded Stone Brewing $56 million in damages against MillerCoors.
Why You Should Know This:  MillerCoors' adopting of a trademark that was the same as Stone Brewing's mark could be described as reverse confusion. Reverse confusion is where a first adopter's brand is swamped by a later adopter's similar brand. The later adopter doesn't have a priority of use but edges the first adopter out of the market by sheer force of advertising power. To avoid reverse confusion and hefty infringement damages, even large companies with lots of resources should always take the crucial step of due diligence before adopting or revising a brand.
Leave a comment