Casino Dice Game Patent Application Had No Luck
Casino Dice Game Patent Application Had No Luck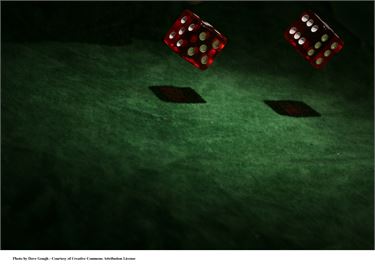 Marco Guldenaar Holding BV filed a patent application for a casino dice game. The claims in the patent covered unique markings on the dice and the rules of the game. Guldenaar Holding threw snake eyes when the United States Patent and Trademark Office rejected the application and the rejection was affirmed on appeal to the Federal Circuit of Appeals.
According to the Court, the US Supreme Court's decision in Alice Corp. v. CLS Bank International prohibits patents for abstract ideas like Guldenaar Holding's casino game. The game rules and markings on the dice lacked an "inventive concept" sufficient to transform the claimed subject matter into a patent-eligible application of that idea. Guldenaar Holdings argued that the dice markings aren't conventional and the game isn't just an abstract idea because it involves physical game-playing steps versus just mental game-playing steps. The Court disagreed, ruling that a game can still be abstract even if there are physical steps to playing the game. But, the Court was careful to say that not all games are ineligible for patent protection. In a concurring opinion, Circuit Judge Haldane Robert Mayer wrote, "While games may enhance our leisure hours, they contribute nothing to the existing body of technological and scientific knowledge. They should therefore be deemed categorically ineligible for patent".
WHY YOU SHOULD KNOW THIS. All types of Intellectual Property Law have limitations on what they protect. Guldenaar Holdings butted up against the patent limitation for abstract ideas. Guldenaar Holdings is not alone. Owners of business process and software have watched their patent applications be denied and the issued patents be cancelled in light of the Alice decision. So if patent protection isn't available, what then? Assuming the elements exist, other types of Intellectual Property such as copyrights and trade secrets could be available.
Leave a comment