Celebrating the Accomplished Life of Miriam Benjamin
Celebrating the Accomplished Life of Miriam Benjamin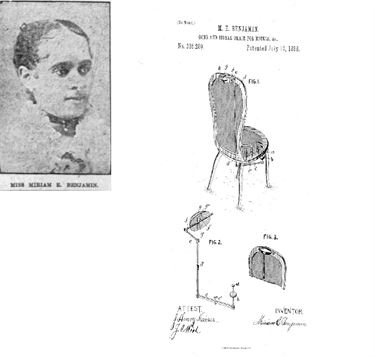 In Brief:  To mark the conclusion of Black History Month 2023, we celebrate the remarkable Miriam Benjamin.
Here's What Happened:
Miriam Benjamin (1861 – 1947) was an inventor, teacher, composer, and is credited with being the first female African-American patent attorney.
Miriam attended Howard University's medical school and "read the law" to become an attorney.
Miriam moved to Washington, D.C. where she taught in the segregated municipal school district. She practiced law with her brother, Lyde Wilson Benjamin, who was an attorney and inventor.
In 1888, Miriam obtained a patent for her Gong and Signal Chair. The invention allowed a person in the chair to use a small button to ring a bell and display a red ball at the back of the chair. She described it as replacing the need for hand clapping or calling out loud for attendants in hotel lobbies, hospitals, and Congress (to call pages). Her invention was featured at the 1895 Cotton States and International Exposition in Atlanta, Georgia. Miriam was one of many African-American inventors featured in the "Negro Building" at the exposition. Booker T. Washington of the Tuskegee Institute was the keynote speaker. In his speech, he sought to promote racial cooperation. 
Miriam went on to obtain many more patents, including a pinking device for dressmaking and a way to deliver medicine through an insert in a shoe.
Miriam was Lyde's attorney on his patent applications.
In true Renaissance woman style, under the pseudonym, E.B. Miriam, Miriam composed for piano and band. John Philip Sousa's band performed one of her marches, "The Boston Elite Two Step". Theodore Roosevelt used one of her compositions. "The American Bugle Call" in his 1904 presidential campaign.
Why You Should Know This:  Trailblazers, like Miriam, inspire us and enrich our lives.
Leave a comment