Copyrighted Flowers Have Only So Many Damages Petals
Copyrighted Flowers Have Only So Many Damages Petals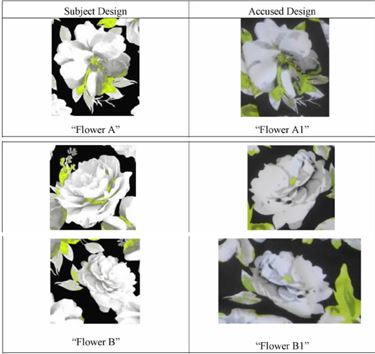 In Brief:  A plaintiff can't get multiple statutory damages awards for the infringement of one work.
Here's What Happened: Desire, LLC designs and manufactures fabrics and textiles. It registered the copyright for its flower designs. Manna Textiles, Inc. copied Desire's flower designs (see the original and the copies). Manna gave the infringing designs to manufacturers who created women's clothes using them. The manufacturers sold the clothes to stores. The stores sold the clothes to consumers.
Desire sued Manna and everyone who manufactured and sold clothes that used the infringing flower design for willful infringement. The district court found that Desire registered its copyright and had valid and protectable copyrights in the designs. Desire opted to recover statutory damages instead of actual damages and lost profits. A plaintiff makes this kind of choice when the actual damages are relatively low and the defendant acted willfully.
After a jury trial, the jury found that Manna and two other defendants willfully infringed Desire's textile design. Two other defendants were found to be innocent infringers. The jury awarded statutory damages ranging from $10,000 to $150,000 against each defendant.
The defendants appealed.
The Ninth Circuit Court of Appeals reversed and remanded the case back to the district court on the issue of the amount of statutory damages.
The Ninth Circuit determined that the district court correctly apportioned joint and several liability among the defendants by looking at what each defendant actually did. But the amount of statutory damages available in a particular matter depends on the number of individual works infringed and the number of separate infringers. In this case there was only one work and not all of the defendants were jointly and severally liable with the other defendants. The Ninth Circuit held that the statutory damages section in the Copyright Act doesn't authorize multiple statutory damages awards against each of the defendants. So the case was remanded back to the district court to make sure that the right amount of statutory damages was awarded against each of the defendants.
WHY YOU SHOULD KNOW THIS:  Damages in copyright infringement cases can be relatively low or hard to prove. Statutory damages gives a plaintiff the ability to avoid those problems. The amount of statutory damages ranges from $200 to $150,000 depending on how willful the infringement was. The problem with the jury's verdict in this case was that it stacked the statutory damages based on the number of defendants and not on the number of works that were infringed upon.
Leave a comment