Decision Sucks for ".sucks"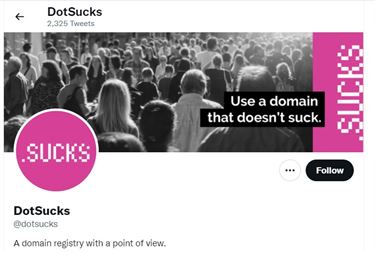 In Brief: A generic top level domain name needs something more to be a trademark.
Here's What Happened:
Many a business has been the object of a grudge website. The grudge website is the haven for the unsatisfied customer. It is a place for the customer to complain and invite others to complain as well. It's no surprise that the Internet has spawned a great many grudge websites.
Enter Vox Populi Registry, Ltd. In 2014, Vox bought the top level domain ("TLD") "".sucks"". The ".sucks" TLD allows the unhappy consumer to register a domain name using the target company's name and then the ".sucks" TLD. Vox has had its problems over the years like being accused of cybersquatting and bad faith for charging inflated prices for the TLD. In 2015, the US Federal Trade Commission investigated Vox and concluded that Vox didn't break any federal laws.
In 2016, Vox applied to register two trademark applications for the trademark ".sucks". The first application was for a standard character mark. The second was for a stylized mark using pixelated letters. The USPTO refused registration because neither version functioned as a trademark.
Vox appealed to the Trademark Trial and Appeal Board. The Board determined that neither the standard character mark nor the stylized mark were registerable because neither mark served as a source identifier. The Board explained that the pixelated version of the ".sucks" mark did not create a separate commercial impression and was not sufficiently distinctive. Vox appealed the Board's decision regarding the stylized mark to the Federal Circuit.
The Federal Circuit affirmed the Board's decision. The Federal Circuit acknowledged that design or stylization of an otherwise unregistrable mark can be registered. But the design features have to create an impression separate from the words themselves. The Federal Circuit pointed to substantial evidence that, given the ubiquity of pixelated lettering, consumers would view pixelated lettering as ordinary and not as a source identifier. 
Why You Should Know This. Victims of ".sucks" websites have tried to take them down over the years with mixed results. In general, the courts have held that use of someone's trademark plus the ".sucks" TLD is not trademark infringement. The primary defenses have been there can be no likelihood of confusion and that it is nominative fair use. Still, ".sucks" victims may be able to gloat a little after this decision.
Leave a comment