Doggie Squeaky Toy Has No First Amendment Rights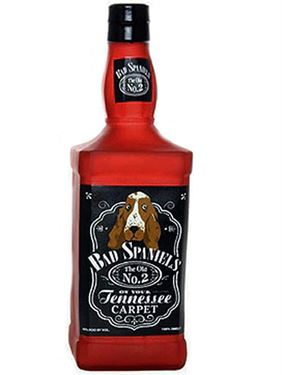 In Brief:  The U.S. Supreme Court held that dog toy parodies are not protected by the First Amendment.
Here's What Happened:  
On June 30, 2020, this blog covered a decision by the Fourth Circuit Court of Appeals holding a squeaky dog toy called "Bad Spaniels" was protected by the First Amendment as a humorous expressive work. According to the U.S. Supreme Court, actually, it's not.
VIP Products LLP sells a series of dog toys called "Silly Squeakers". The toys are often fashioned to look like well-known beverage containers. One of the toys is called "Bad Spaniels". It looks like a Jack Daniel's whiskey bottle but with alterations. The name was changed from Jack Daniel's to Bad Spaniels. But it didn't stop there. Instead of "Old No. 7", it said "Old No. 2 on your Tennessee Carpet" (which should resonate with dog owners). The alcohol description read 42% POO BY VOL" and "100% SMELLY" (again something instantly recognized by dog owners).
Jack Daniel's Properties, Inc. didn't think it was funny. Litigation ensued.
On appeal from the Fourth Circuit Court of Appeals decision in VIP's favor, Jack Daniel's argued that VIP was using the "Bad Spaniels" name as a trademark to sell its goods. The Supreme Court first discussed Rogers v. Grimaldi, 875 F. 2d 994 (2d Cir. 1989). Under Rogers, a trademark infringement claim involving an expressive work must be dismissed unless the complainant can show either that the challenged use: (1) "has no artistic relevance to the underlying work;" or (2) "explicitly misleads as to the source or the content of the work." Id. at 999.
VIP admitted that it's using "Bad Spaniels" to identify or distinguish the source of its goods. The Court believed that trademarks are protected to function that way and so it would be a "cardinal sin" to undermine that function. 
VIP also argued that there was no dilution of a famous mark because "Bad Spaniels" is a toy and a parody so it's not commercial use. The Court rejected this argument because VIP was using Bad Spaniels commercially to sell its products.
The Court reversed and remanded the case to the lower court to determine in the first instance whether the "Bad Spaniels" marks are likely to cause confusion with "Jack Daniels".
Why You Should Know This:  Parody of a famous brand has its limits. However, even in this case, a parody brand that doesn't create a likelihood of confusion can live to see another day. So we'll see if the lower court finds a likelihood of confusion.
Case Information: Jack Daniel's Props. v. VIP Prods. LLC, 143 S. Ct. 1578 (2023).
Leave a comment