Edison and the Santa Claus Movie
Edison and the Santa Claus Movie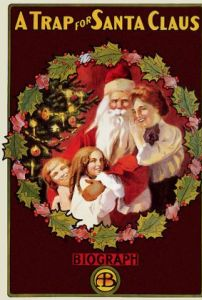 In Brief:  Reaching back into IP history, we find that "A Trap for Santa" was at the heart of an IP dispute in the early 1900s.
Here's What Happened:
Thomas Alva Edison is known to history as the inventor of many things; the movies being one of them. Edison kept a lock on his technology by insisting that all movies had to be licensed through the Motion Picture Patent Company (MPPC), which was nicknamed the Edison Trust.
The Biograph Company was founded in 1895 by one of Edison's former employees, Kennedy Dickson. Biograph, like every other film production company of the time, leased its films to the MPPC. At some point, some Biograph prints ended up in the hands of a company named International Film Traders (IFT). Among the films was "A Trap for Santa". According to IMDb, the plot was: "The children set a trap for Santa Claus on Christmas Eve, knowing he has to come through the window because their estate has no chimney. Their father, who abandoned them and his wife before she inherited her fortune, plans to burglarize that very house, unaware of the occupants or the trap."
The film was directed by none other than D.W. Griffith, who helped develop film narrative during the infancy of film as art. And he's also infamously known as the director of the highly controversial "The Birth of a Nation".
The Edison Trust sued to recover the prints of the Santa film and others from IFT. The Edison Trust lost at trial. The issue was whether IFT had legitimately bought the prints and so had the right to use them. When questioned, IFT's witness couldn't say exactly who sold the prints. He testified it was "some guy in Europe". The judgment was reversed on appeal.
In 1915, the Edison Trust was busted as a monopoly (no surprise). After the trust was busted, Biograph tried to make it as an independent film company. It fell on hard times and went out of business in 1928.
Why You Should Know This:   Happy Holidays.
Case Information: You can see the film on YouTube.
Leave a comment