Happy Holidays™ or ®?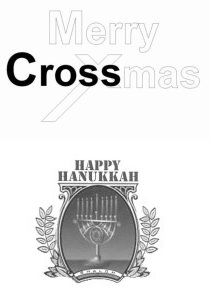 As the holiday season ramps up, a question arises. Can someone own a holiday trademark? Many have tried with various levels of success. The successful registrations don't try to corner the market on holiday greetings. Here are some examples.
Trademarks Using a Foreign Language: (As far as the USPTO is concerned, the foreign language version is treated the same as the English Translation).
FELIZ NAVIDAD: Registered in 1997 for coffee beans and coffee drinks.
JOYEUX NOEL: Registered in 2010 for candles and wicks for lighting scented candles.
Connected to the Holiday:
MERRY CHRISTMAS FROM HEAVEN: Registered in 2009 for jewelry and Christmas tree ornaments and decorations.
MERRY CHRISTMAS - - IF APPLICABLE: Registered in 2010 for a website featuring personal greetings about Christmas.
MERRY CHRISTMAS YA FILTHY ANIMAL: Registered in 2016 for Christmas tree ornaments and Christmas decorations.
Clever Designs:
MERRY X(CROSS) MASS (See Logo): Registered in 2014 for beer mugs, coffee cups and coffee mugs.
HAPPY HANUKAH SHALOM (See Logo): Registered in 2012 for chocolate candy bars.
Completely Unrelated Goods and Services:
KWANZAA: Registered in 1994 for coffee.
MEOWY CHRISTMAS: Registered in 2016 for t-shirts, sweaters, baby bodysuits and tank tops.
MERRY CHRISTMAS YA LITTLE JERK: Registered in 2016 for shirts and sweaters.
MERRY CHRISTMAS BITCHES: Registered in 2017 for clothing.
KWANZAA KLAUS: Registered in 2018 for children's toys.
WHY YOU SHOULD KNOW THIS. The registration of these trademarks does not impede your ability to use holiday greetings as intended. Merry Christmas, Happy Hanukah, Happy Kwanzaa and a Joyous New Year to all.
Leave a comment