Hot Topic: Fake News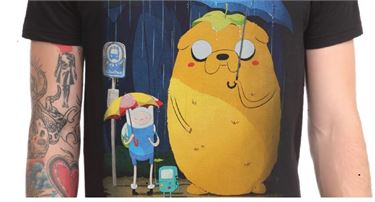 Extra. Extra. Popular art posting website steals an artist's works and sells it to Hot Topic. Actually that didn't happen. DeviantArt ("DA") operates a website that features the works of visual artists. The artist submits a picture or photograph and DA posts it for the entire world to see. Under DA's terms and conditions, the artist agrees to give DA a world-wide, non-exclusive license to publish, resize, make collages and use the work for DA marketing and promotion. The terms and conditions specifically state that the artist retains the copyright in the work and no one can use it without the artist's permission. What could go wrong? A DA user discovered that his Adventure Time fan art (see the picture) appeared on a t-shirt sold by Hot Topic. A flurry of anguished and angry social media postings accused DA of selling the art to Hot Topic. DA denied selling the art to Hot Topic. DA pointed to its terms and conditions where it said that no one can download and use the art for commercial purposes without permission from the copyright owner. So the artist will have to follow up directly with Hot Topic.
WHY YOU SHOULD KNOW THIS. The first lesson is to always read terms and conditions before posting something on or downloading from a website. It may seem like boring reading but it's never a waste of time to know your rights and liabilities. The second lesson is, even in the world of copyright, you can't believe everything you see and hear. For instance, a few commentators on the DA/Hot Topic issue asserted that Hot Topic's use of the fan art was "fair use" because it could be found on the Internet. This is a popular misconception about fair use. If Hot Topic used the fan art without the artist's permission and for commercial purposes, it was not fair use. Thanks to art student, Tory Lieberman, for the heads up on this topic.
Leave a comment