Just in Time for Summer BBQ
Just in Time for Summer BBQ
6/8/21 1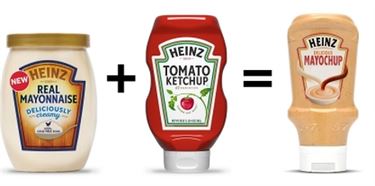 In Brief:   Metchup survives a trademark challenge, but barely.
Here's What Happened: If you like to put both ketchup and mayonnaise on your hamburger and you find it a hassle to have to pour or squeeze from different containers, H.J. Heinz Company Brands, LLC came up with "Mayochup". That's right. Mayochup is a one stop shop for a ketchup/mayonnaise blend. Mayochup joined other Heinz condiment mashups like Kranch (ketchup and ranch dressing), and Mayocue (mayonnaise and barbeque sauce).
Dennis Perry, a Louisiana sauce maker and small motel operator, came up with his own blend called "Metchup". Dennis sells his tasty blend exclusively for his motel. He tried to get some store chains in other states to carry his product but was unsuccessful. He has sold fewer than 100 bottles.
Dennis sued Heinz for trademark infringement. Heinz counterclaimed seeking to cancel the Metchup trademark. The district court granted Heinz's motion for summary judgment on the issue of infringement because Dennis had failed to prove any type of confusion in the marketplace. The court also granted Heinz's motion for summary judgment to cancel the Metchup trademark due to abandonment caused by lack of use in interstate commerce.
On appeal, the Fifth Circuit affirmed the summary judgment in Heinz's favor regarding trademark infringement. The Court stated that Dennis could not prove a likelihood of confusion or any actual confusion between the trademarks. "In the end, Mr. Perry's Metchup mark is simply too weak for there to be a likelihood of confusion on these facts . . . It would be a coincidence to ever encounter both Mayochup and Metchup in the market, much less get confused."
But, the Court reversed and remanded the cancellation of the Metchup trademark. De minimus use of a trademark can be grounds to deem the trademark abandoned. De minimus use is usually token or sporadic use. In this case, there's genuine issue of material fact regarding whether Dennis' use of the Metchup trademark could be deemed abandonment of the trademark. Dennis didn't advertise his product, sell it on-line or do anything to increase its production and use. So a jury could infer that the trademark was abandoned. However, it is up to a jury to make that inference. So summary judgment on the issue was improper.
WHY YOU SHOULD KNOW THIS:  Federal registration of a trademark requires use in interstate commerce. Dennis is going to have a hard time proving use in interstate commerce. He has a small operation with not very many sales. And the size of Dennis' operation made it virtually impossible to prove that consumers would be confused between Mayochup and Metchup. One other issue that's worth discussing. The court described the Metchup as a "weak mark". There are two types of weakness. The mark itself can be weak if it's generic or merely descriptive. The mark can be commercially weak when there aren't a lot of sales, like Metchup.
Leave a comment
---
How about a combo or Ketchup and Mustard: Mustchup.