Punsters Delight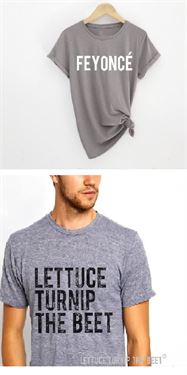 [Caution: This blog may contain bad puns; But it's how Eye Roll.]
In two recent cases, trademark holders learned that it was a huge Missed-Steak to sue when puns were involved.
In the first case, Beyoncé Knowles-Carter and BGK Trademark Holdings, LLC sued Feyonce LLC's. Beyoncé alleged that Feyonce's branded merchandise for people who are engaged to be married caused a likelihood of confusion with her trademarked merchandise. Beyoncé's motion for partial summary judgment got a Chile reception from the court. In denying the motion, the court identified the critical question was whether a rational consumer would believe that Feyonce's products were sponsored by Beyoncé or affiliated with her company. The court held that the pun on Beyoncé's name was sufficient to dispel a likelihood of confusion among the consuming public. The court acknowledged that the two trademarks had similar text, font and pronunciation. However, the Feyonce mark has the additional connotation of sounding like the word "fiancé" which is directly related to Feyonce's merchandise. Since the suit didn't go how Beyoncé Oregano-ly planned, she dismissed the case.
The second case, involved another Farce to be reckoned with. LTTB LLC is an online apparel company. LTTB credits a large part of its success to public fascination with products featuring the phrase "Lettuce Turnip the Beet". Redbubble, Inc. is an online marketplace that sells merchandise created by independent artists. When Redbubble artists started using the turnip pun on merchandise, LTTB sued Redbubble for trademark infringement. Redbubble Romained calm and brought a motion for summary judgment. In granting the motion, the court felt that LTTB didn't have a case against Redbubble. The court granted summary judgment for Redbubble on the basis of the "aesthetic functionality doctrine". This means that if goods are bought for their aesthetic value, their features are purely functional and not trademark use. The court held that no trier of fact would conclude that consumers bought the merchandise because of LTTB's reputation.
WHY YOU SHOULD KNOW THIS.  These two cases show some of the limits of trademark protection. In the Beyoncé case, the pun had enough to do with the type of merchandise being sold to avoid a likelihood of confusion. In the LTTB case, the pun, and not the brand, was why people bought the merchandise. Note that the "aesthetic functionality doctrine" is the subject of some controversy. It is not evenly applied by the courts. So it may not always Turnip in a victory for the punster.
Leave a comment