Reply All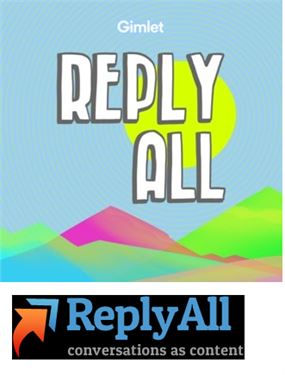 If the words "reply all" sound familiar to you, then you probably use email to communicate with others for various and sundry reasons. Despite their widespread use, these two words became the subject of trademark litigation.
In 2012, Reply All Corp. started to sell software to let users create and share conversations.
In 2014, Spotify's Gimlet Media began producing a podcast named "Reply All". The hosts, PJ Vogt and Alex Goldman talk about strange stories and trending topics.
Would you confuse Reply All's software with the "Reply All" podcast? Gimlet Media was convinced that customers would be.
Gimlet Media sued Reply All for trademark infringement. After about 5 years of litigation, a judge ruled that almost every factor of a likelihood of confusion weighed against Gimlet Media and in favor of Reply All. The court found that the mark was fairly weak. Gimlet didn't have a record of sales or marketing expenditures to show commercial strength. And the court acknowledged that the term "reply all" is a common term which is recognized by anyone who uses email. The names might be the same but the logos are different (see the graphic) and the products are different. They don't compete in the same customer space. The court pointed out that Gimlet Media had no evidence of actual confusion. Note that you don't have to prove actual confusion; it's just one factor to look at. In this case, the court thought it was a significant factor.
WHY YOU SHOULD KNOW THIS.  For registration purposes, most countries, including the US have adopted an international scheme of classes of goods and services. There are 45 of them. It is almost impossible for someone to register a trademark in all 45 classes. The class distinction is helpful when evaluating a likelihood of confusion between trademarks. If someone uses a word for the wholesale distribution of auto parts (Class 035), consumers are unlikely to be confused if someone used the same word for graphic t-shirts (Class 025). In the Reply All case, the words are the same but they were used for totally different goods and services. One caveat though. Some trademarks are so famous that even if the goods and services don't compete directly, the owner of the famous mark (like Barbie, Rolex, Nike and Jack Daniels) can shut down the use of the trademark even if someone is using it in a different class of goods or services. This is called dilution.
Leave a comment