Taking Candy from a Candy Company
Taking Candy from a Candy Company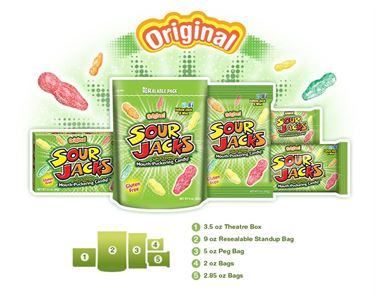 If you like Sour Jacks and/or Welch's Fruit Snacks, a lot goes on behind the scenes for your sugar pleasure. Promotion In Motion, Inc. or PIM holds the formulas and manufacturing process for the sugary snacks as trade secrets. PIM also owns the design of the packaging. Ferrara Pan Candy Co. manufactured and sold the sugar bombs for PIM from 1990 to 2014 pursuant to a confidentiality agreement and license.
In 2014, Ferrara merged with another company and formed the current iteration of Ferrara. The new Ferrara signed a new confidentiality agreement with PIM for the formulas and manufacturing process of the sugar delivery systems.
In connection with the merger, Ferrara cancelled its primary insurance policy with Liberty Mutual Fire Insurance Company, and its umbrella general liability insurance with Liberty Insurance Corp.
In 2015, PIM sued Ferrara alleging that Ferrara had stolen trade secrets to produce and market competing sugar fix enablers named Market Pantry, Black Forest and Sour Buddies. PIM also alleged that Ferrara's packaging infringed on PIM's trade dress. Ferrara tendered its defense to Liberty. Liberty agreed to take on the defense with a reservation of rights. Liberty brought a declaratory judgment action to determine if Liberty was obligated to cover the defense.
Then Ferrara came down from its insurance coverage sugar high. First, after discovery closed, Liberty withdrew from the defense of all but the trade dress infringement count. Liberty argued that trade secret misappropriation and breach of a confidentiality agreement weren't covered by insurance. Then, Liberty obtained a judgment that it wasn't obligated to cover the trade dress infringement count. The judgment was affirmed on appeal. The appellate court held that the alleged infringing acts took place post-merger. And there was no coverage post-merger because Ferrara had cancelled the policies. Ferrara now has to pay back all of the fees Liberty paid in defense of the PIM litigation.
WHY YOU SHOULD KNOW THIS. Most business insurance policies will cover claims for advertising injury. Advertising injury is very limited. Trade secret misappropriation is not an advertising injury. Breach of a confidentiality agreement is not advertising injury either. So Liberty didn't have to cover the defense of those claims. Trade dress infringement can fall into the category of advertising injury. But Ferrara cancelled the policies. Was this an oversight during the merger process? Could be. But, the bottom line is that by cancelling the policies after the merger and not obtaining new insurance, Ferrara lost the ability to reach into the insurance sugar bowl for the defense of PIM's claims.
Leave a comment