The 2022 Crippys – The IP Criminals Hall of Fame
The 2022 Crippys – The IP Criminals Hall of Fame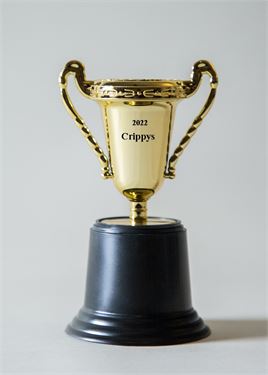 In Brief:  As we enter awards season, it's time to acknowledge those who achieved infamy in the world of Intellectual Property. 
Here's What Happened:
HONORABLE MENTION GOES TO: Los Angeles, attorneys Elizabeth Yang and Di Li. Yang and Li weren't accused of or prosecuted for a specific crime. What they did was a wholesale violation of attorneys' code of conduct. A few years ago, the United States Patent and Trademark Office decided it needed to do something about the inundation of dubious trademark applications coming from China. The vast majority of the applications had no hopes for registration but were submitted to see what would stick. These bogus applications resulted in a huge backlog for examining attorneys. So the USPTO issued a rule that foreign applicants must have a U.S. qualified attorney sign their applications. Yang and Li, who were U.S. qualified attorneys, agreed to allow foreign agents from China to use their names and bar numbers on the applications. Yang and Li didn't review the applications or have any contact with the purported clients. Yang and Li charged a flat fee for each application. This scheme violated the USPTO rules of practice (and most likely the rules of practice in California where Yang and Li practice). Upon discovery of this wholesale violation of USPTO rules, the USPTO Office of Enrollment and Discipline suspended Yang and Li's ability to practice before the USPTO for a period of time after which they would be put on probation. Yang and Li's experience is a cautionary tale about how trying to game the system can backfire.
FIRST RUNNER UP CRIPPY GOES TO: Victors Suthorukovs. Victors defrauded registered trademark owners. Trademark law requires trademark owners to file declarations with the USPTO during certain intervals in the life of their trademark. Victors would send out notices to trademark owners telling that it was time to file the declarations. But he would misstate the deadline date as being years earlier than it really was. Then he'd charge an inflated fee to take care of the fillings. There were three major problems with this. First, the window to file the declarations doesn't open until one year before the deadline, so Victors couldn't complete the filings at the time he sent the notices out. Second, Victors never filed anything anyway. Third, most owners would find out they were duped after their registrations were cancelled. Victors was sentenced to 4 years in prison and a $4.5 million fine.
GRAND PRIZE CRIPPY GOES TO: Filippo Bernardini. Filippo stole book manuscripts before they were published. Filippo was a rights coordinator for Simon & Shuster UK. For over 5 years, Filippo engaged in a curious spree of digital robberies. He impersonated all sorts of real people in the publishing industry by sending out fake emails. Filippo registered over 160 fraudulent domain names for his fraudulent emails. He used his fake personas to obtain hundreds of unpublished manuscripts including ones by authors, Margaret Atwood, Ian McEwan and Ethan Hawke. The FBI finally tracked Filippo down and arrested him after landing in New York. Filippo plead guilty to fraud and identity theft. He agreed to pay restitution of $88,000 and faces up to 20 years in prison. Filippo doesn't seem to have done anything with the stolen manuscripts. As far as we know, the manuscripts haven't shown up on the black market and they weren't made available for download anywhere. The publishing industry remains baffled as to Filippo's motivation. 
Why You Should Know This: The Crippys are a reminder that there is accountability when it comes to wrongdoing involving Intellectual Property.
Case Information: The internet is full of articles about this year's honorees and winners.
Leave a comment