The Meme-ification of Pepe the Frog
The Meme-ification of Pepe the Frog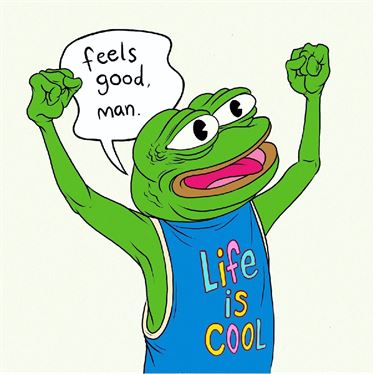 Matt Furie describes his popular Internet character "Pepe the Frog", as a "cool, chill frog dude". Celebrities like Katy Perry and Nicki Minaj have published Pepe the Frog memes.* Online message boards posts fan art featuring Pepe the Frog and calling them "rare Pepes". Pepe the Frog's Internet popularity turned into a financial windfall for Matt.
But then unsavory Internet posts started using Pepe the Frog. That's when the cool, chill frog dude lost his chill. Pepe was co-opted by white nationalists and the alt-right movement to pursue hate filled agendas in blog posts, memes and other promotions. It got so bad that the Anti-Defamation League, an American organization opposed to antisemitism, included Pepe the Frog in its hate symbol database. Matt went after the infringers who used Pepe the Frog as a symbol of hate. Everyone caved – except InfoWars, Inc. InfoWars is the notorious website run by Alex Jones. Mr. Jones is a far-right conspiracy theorist who is currently being sued by some parents of the victims of the Sandy Hook Elementary School shooting because he claims the tragedy was a hoax to support gun control.
In the lawsuit brought by Matt, Mr. Jones took a shot gun (pun intended) approach to defending his unauthorized use of Pepe the Frog. The defenses included claiming Matt's work was not original to Matt and claiming Matt lied to the Copyright Office in his application to register Pepe's copyright. But one of the defenses was unique. Mr. Jones argued Pepe's ubiquitous appearance in Internet memes nullifies Matt's copyright in the character. In denying Mr. Jones' motion for summary judgment, the District Court for the Central District of California noted that "Defendants have not pointed to any authority for the proposition that 'meme-ification' of an image or character destroys or diminishes the original author's copyright interest." The parties ended up settling for $15,000 and a permanent injunction.
WHY YOU SHOULD KNOW THIS.  As the Court pointed out, Mr. Jones' meme-ification argument was unsupportable. Copyright Law does not nullify a copyright because of prevalent uses of a copyrighted work, whether authorized or not. While it would have been great for Pepe the Frog to have his day in court at a trial, the District Court's summary judgment opinion gives us cited authority that "meme-ification" is not a defense to copyright infringement. 
Memes are images, videos, pieces of text, etc., that are copied (often with slight variations) and spread rapidly by Internet users.
Leave a comment