Would Ye Like a Wizard Image Lawsuit?
Would Ye Like a Wizard Image Lawsuit?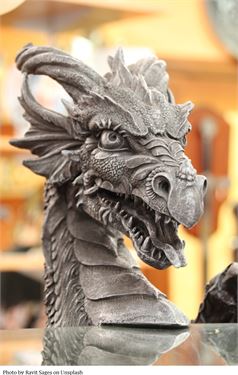 In Brief:   A work that is created for commercial purposes is not protected by the Visual Artists' Rights Act.
Here's What Happened: Artist, Edward Beard Jr., specializes in artwork depicting wizards, fairies and dragons. He regularly attends and displays his artwork at Renaissance Faires. One day, he was chatting with a fellow Renaissance Faire attendee, Arik Helman, who makes his living designing handmade boots and other leather goods for his family-owned business, Son of Sandlar.  Arik complained about how hard it was to produce a quality boot button with a dragon design. Edward offered to design a dragon button for Arik. Edward presented Arik with a circular design that Arik liked. But it took over a decade for Arik to actually produce the buttons.
Everyone agrees that the parties had entered into an oral license for Arik to use Edward's dragon design. But they didn't agree on the terms of that license. A lot of emails and Facebook messages later, everything fell apart. Apparently, one of the biggest issues for Edward was that Arik was supposed to give him a pair of boots with the buttons.
Edward registered the copyright for the design and then filed suit for copyright infringement. Edward claimed that he was entitled to statutory damages and attorney's fees, among other remedies.
Arik filed a motion to dismiss that was turned into a motion for summary judgment. Arik had three main arguments.
First, Arik asserted that he had a valid settlement agreement with Edward. The court denied summary judgment because there were too many issues of fact.
Second, Arik argued that he had an exclusive license so Edward didn't have standing to sue him. The court denied summary judgment because there was a genuine issue of material fact as to whether the license was exclusive.
Third, Arik argued that Edward wasn't entitled to statutory damages and attorney's fees because the infringement occurred before Edward registered his copyright. Arik was right about that. In response, Edward argued that his work is protected by the Visual Artist Rights Act (VARA) which doesn't require a copyright registration to bring suit for infringement. VARA protects "a painting, drawing, print, or sculpture, existing in a single copy, in a limited edition of 200 copies or fewer that are signed and consecutively numbered by the author, or, in the case of a sculpture, in multiple cast, carved, or fabricated sculptures of 200 or fewer that are consecutively numbered by the author and bear the signature or other identifying mark of the author." The statutory definition expressly excludes, inter alia, "any merchandising item or advertising, promotional, descriptive, covering, or packaging material or container."  The court granted Arik summary judgment on this point because the dragon design was created for merchandising and didn't qualify for protection under VARA.
Why You Should Know This:  VARA can come in handy if a work falls within the limited definition of a visual work of art. But for those who don't fall into this limited category, there are two important lessons to be learned from Edward and Arik's experience. Always get a written license and always register your copyright as soon as the work is fixed in a tangible means of expression.
Leave a comment