Newsletters & Alerts
Announcements
TWENTY OF GOLAN CHRISTIE TAGLIA'S ATTORNEYS INCLUDED IN 2017 LEADING LAWYERS LIST
June 1, 2017
We owe a huge thank-you to all of the firm's clients, friends and referral sources for helping us to continue to receive accolades in our profession, year after year.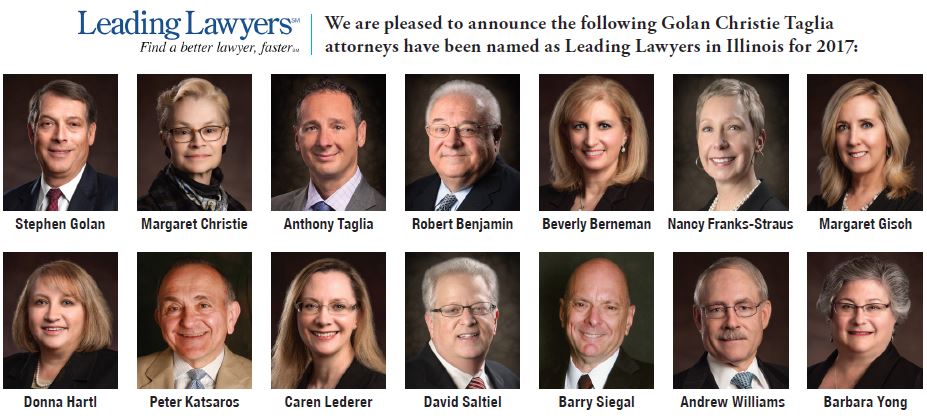 We are pleased to announce the following Golan Christie Taglia attorneys have been named as Leading Lawyers in Illinois for 2017: Stephen Golan, Margaret Christie, Anthony Taglia, Robert Benjamin, Beverly Berneman, Nancy Franks-Straus, Margaret Gisch, Donna Hartl, Peter Katsaros, Caren Lederer, Barry Siegal, David Saltiel, Andrew Williams and Barbara Yong.

Additionally, Golan Christie Taglia attorneys Laura Balson, Anthony D'Agostino, Brianna Golan, Gillian Lindsay, Ashley Orler and Matthew Wasserman were named as Emerging Lawyers by Leading Lawyers.
Leading Lawyers is a division of Law Bulletin Publishing Company. Leading Lawyers surveys lawyers, asking them which of their peers (their competitors) they would recommend to a family member or friend if they could not take a case within their area of law or geographic region. To maintain the quality and credibility of the survey, lawyers cannot nominate themselves or anyone at their own law firm. Based upon survey nominations and approval by the Leading Lawyers Advisory Board, only the top lawyers are nominated and eligible for membership in Leading Lawyers. Leading Lawyers limits the total number of Leading Lawyers in each state to less than five percent of all lawyers licensed to practice law in that state.
The selection process for Emerging Lawyers is similar except that a candidate must be 40 years old or younger and the total number of Emerging Lawyers is limited to no more than two percent of all lawyers licensed to practice in Illinois.