FROM OUR MANAGING PARTNER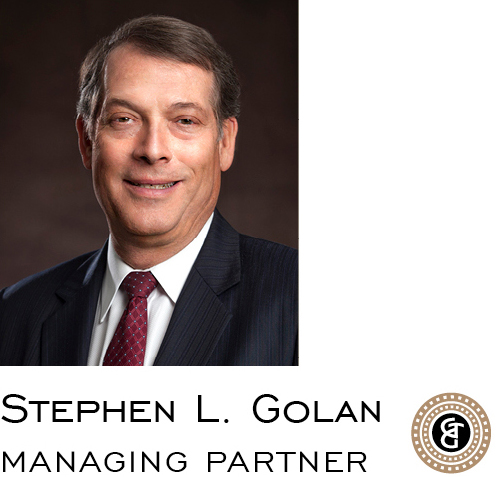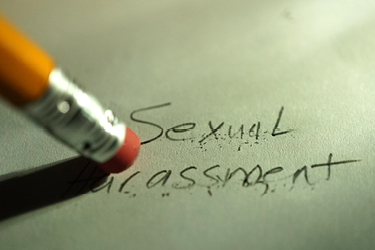 NEW ILLINOIS LAW SIGNIFICANTLY CHANGES SEXUAL HARASSMENT RULES AND EMPLOYER RESPONSIBILITIES
READ MORE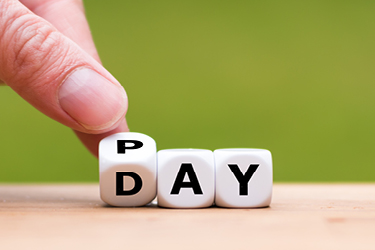 WHAT YOU NEED TO KNOW ABOUT CHICAGO'S FAIR WORKWEEK ORDINANCE AND ILLINOIS' ARTIFICIAL INTELLIGENCE VIDEO INTERVIEW ACT
READ MORE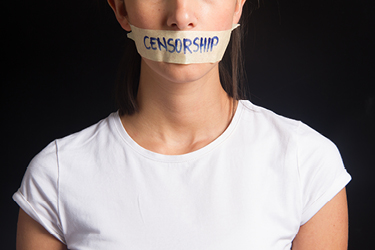 HOW STANDARDS OF MORALITY MAY AFFECT YOUR TRADEMARK DECISIONS
READ MORE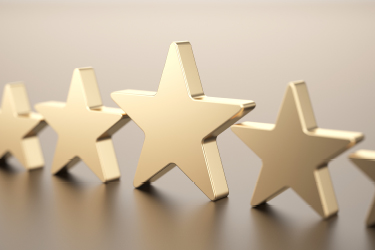 GCT ATTORNEYS RECOGNIZED FOR COMMITMENT TO PROFESSIONAL EXCELLENCE AS THE GCT FAMILY CONTINUES TO GROW
READ MORE
We are thankful for your continued trust in us and will remain dedicated to your well-being. All of us at Golan Christie Taglia send our warmest wishes for a joyful holiday season!

Stephen L. Golan
FOCUS:

Employment Law
NEW ILLINOIS LAW RESULTS IN MAJOR CHANGES TO SEXUAL HARASSMENT RULES
EXPANSIVE LEGISLATION REDEFINES SEXUAL HARASSMENT AND CREATES NEW EMPLOYER OBLIGATIONS AND RESPONSIBILITIES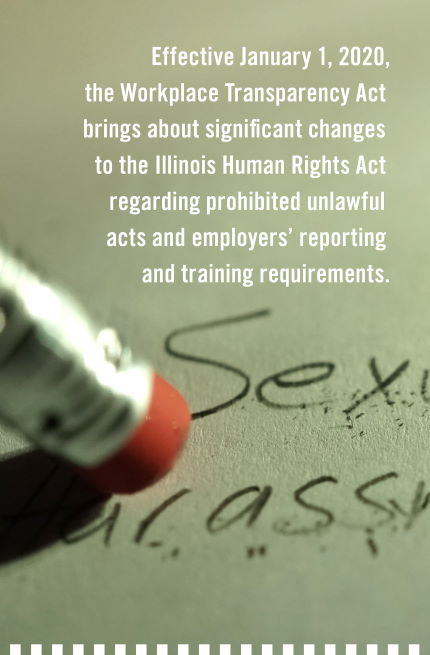 I. WHAT IS THE WORKPLACE TRANSPARENCY ACT?
The Workplace Transparency Act ("WTA") restricts an employer's ability to require nondisclosure and nondisparagement language in employment, separation, and settlement agreements. The WTA also amends the Uniform Arbitration Act and places limitations on the use of mandatory arbitration for sexual harassment or other discrimination claims. The WTA becomes effective on January 1, 2020.
More specifically, employers are prohibited from, "as a unilateral condition of employment or continued employment," contractually restricting a prospective, current, or former employee's ability in "making truthful statements or disclosures regarding unlawful employment practices." Additionally, the WTA also bars employers from unilaterally requiring that a current or prospective employee waive, arbitrate, "or otherwise diminish" existing or future claims, rights, or benefits related to an unlawful employment practice.
The WTA permits an employer and employee to agree to, as a "mutual condition of employment or continued employment," a nondisclosure, nondisparagement, and/or arbitration clause/agreement "that would otherwise be against public policy as a unilateral condition of employment or continued employment," if it: (a) is in writing, (b) demonstrates "actual, knowing, and bargained-for consideration from both parties," and (c) "acknowledges the right of the employee or prospective employee to" do the following: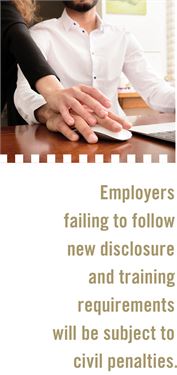 1. Report any good faith allegation of unlawful employment practices to any appropriate federal, state, or local government agency enforcing discrimination laws;
2. Report any good faith allegation of criminal conduct to any appropriate federal, state, or local official;
3. Participate in a proceeding with any appropriate federal, state, or local government agency enforcing discrimination laws;
4. Make any truthful statements or disclosures required by law, regulation, or legal process; and
5. Request or receive confidential legal advice.
In addition to voiding noncompliant agreements and/or provisions, the WTA also provides for an award of attorneys' fees and costs in the event of a favorable, non-appealable ruling for the employee "on the question of the validity and enforceability of the contract."
II. AMENDMENTS TO ILLINOIS HUMAN RIGHTS ACT
The amendments to the Illinois Human Rights Act will also become effective January 1, 2020 and have the potential to have a dramatic impact on employers' practices. For example:
a) The amendments expand certain definitions under the IHRA and clarify the Act's application to nonemployee contractors.
b) The Illinois Department of Human Rights (IDHR) is now required to collect data regarding adverse judgments and administrative rulings in cases involving sexual harassment or unlawful discrimination. The amendments also provide that employers must disclose information about any settlement agreements entered into in the preceding five (5) years that relate to workplace discrimination, if requested by the IDHR during an investigation into a pending charge of discrimination.
c) Beginning July 1, 2020, and every July 1st thereafter, every employer "that had an adverse judgment or administrative ruling against it" in the preceding calendar year must disclose to the IDHR the following information: (1) the total number of adverse judgments or administrative rulings received during the preceding calendar year; (2) whether equitable relief was awarded as part of the judgment or ruling; and (3) a breakdown of judgments and rulings in each protected category. The IDHR is required to publish an annual report of the aggregated adverse judgment data.
d) The amendments require that all employers covered by the IHRA must provide sexual harassment prevention training to their employees at least once a year.
e) In addition to the general sexual harassment training described above, restaurant and bar employers must also promulgate written sexual harassment policies designed for their industry.
Employers that fail to follow the amendments' new disclosure and training requirements will be subject to civil penalties imposed by the IDHR. Employers who fail to comply with disclosure and/or training requirements, after the 30-day grace period, will be subject to monetary penalties as follows:
Employers with fewer than 4 employees: Up to $500 for a first offense, $1,000 for a second offense, and $3,000 for third and subsequent offenses
Employers with 4 or more employees: Up to $1,000 for a first offense, $3,000 for a second offense, and $5,000 for third and subsequent offenses
In assessing a penalty, the IDHR will consider the size of the employer charged, any good faith efforts made by the employer to comply, and the gravity of the violation.
III. AMENDMENTS TO VICTIMS' ECONOMIC SECURITY AND SAFETY ACT ("VESSA")
Also included in the legislation are amendments to VESSA, which now includes victims of "gender violence" in addition to domestic and sexual violence. Gender violence includes: (1) any acts of violence or aggression that are taken, at least in part, based on the person's actual or perceived sex or gender; (2) physical intrusions or invasions of a sexual nature under coercive conditions; or (3) credible threats of the same.
If you have questions or need additional information, please contact an employment law attorney at Golan Christie Taglia, LLP.

CITY OF CHICAGO PASSES "FAIR WORKWEEK ORDINANCE" GRANTING EMPLOYEES PAY FOR WORK SCHEDULE CHANGES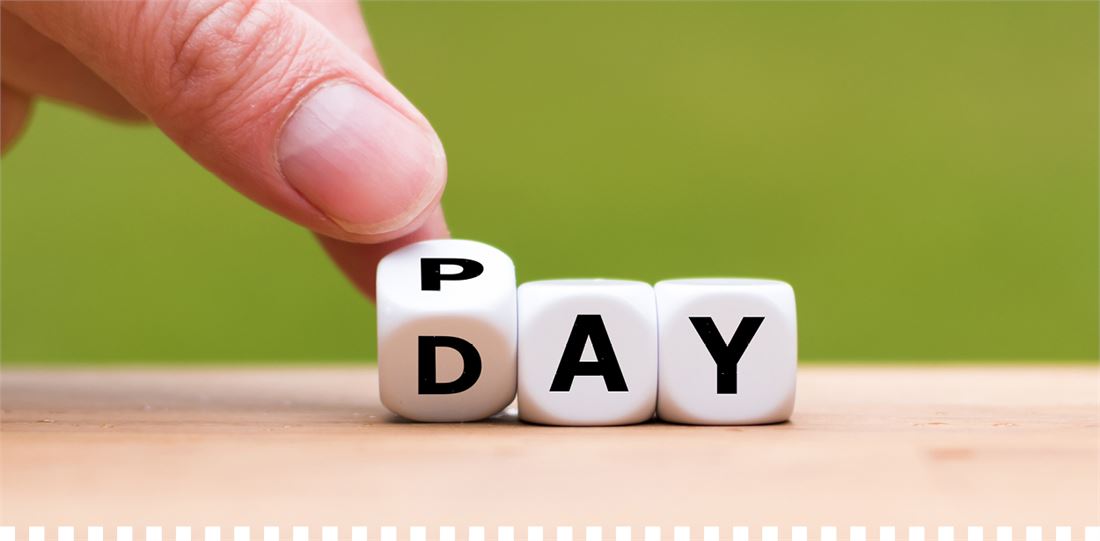 The Chicago City Council recently passed the Fair Workweek Ordinance, the most sweeping "predictive scheduling" ordinance in the country. The Fair Workweek Ordinance aims to give hourly workers more predictable schedules and stable paychecks by mandating that employers give workers early notice of their schedules or face financial penalties if they change shifts unexpectedly. Additionally, the Ordinance requires employers needing to fill additional shifts to first offer those hours to covered employees.
Beginning July 1, 2020, employers in specific industries are required under the Ordinance to post employee work schedules at least 10 days in advance of their scheduled shifts; the deadline for advanced notice increases to 14 days on July 1, 2022. The Ordinance grants employees the right to decline any previously unscheduled hours the employer adds to their schedule after the deadline for advance notice. Employees are also entitled to one hour of "predictability pay" (in addition to their regular compensation) if the employer changes their shift, adds hours of work, or cancels/reduces their shift with more than 24 hours' notice. If a shift is canceled or reduced with less than 24 hours' notice, employees must receive at least 50% of their pay for any scheduled hours not worked. An employer can avoid paying "predictability pay" if the employee mutually agrees to a proposed schedule change in writing.
Employers covered under the Ordinance are those that (1) globally employ 100 or more employees (250 or more for not-for-profits), 50 of whom are covered employees, and (2) are "primarily engaged" in one of the following industries: building services, healthcare, hotels, manufacturing, retail, and warehouse services. Restaurants with 30 locations and at least 250 employees globally are also covered employers, unless the restaurant is a sole franchise with three or less Chicago locations. Covered employees are employees who work primarily within Chicago city limits and earn less than $26 per hour (or $50,000 in annual salary).
Employers that violate the Ordinance are subject to a $300 to $500 fine; however, each employee whose rights are affected constitutes a separate and distinct offense. Employers who retaliate against an employee for exercising his/her rights under the Ordinance are subject to a $1,000 fine.
ARTIFICIAL INTELLIGENCE TECHNOLOGY CAN GET EMPLOYERS INTO LEGAL TROUBLE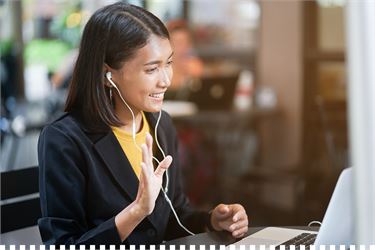 Illinois has also passed a new law, which goes into effect on January 1, 2020, aimed at employers who use artificial intelligence during their recruiting process for new hires.
The Artificial Intelligence Video Interview Act applies to employers who ask applicants to record video interviews and then use "artificial intelligence analysis" of that video interview. Though it may sound futuristic and high-tech, some popular HR solutions companies are automating the interview process by offering platforms where applicants record themselves fielding interview questions and AI technology is then used to analyze the video and score their performance. In other words, the technology enables companies to use machines instead of people to conduct initial screening interviews. With this law, Illinois is addressing the obvious privacy concerns with this technology by imposing notice and consent requirements and regulating how the videos are shared and retained.
If you have questions or need additional information, please contact an employment law attorney at Golan Christie Taglia, LLP.

THE UNITED STATES SUPREME COURT SIDES WITH GEORGE CARLIN
But the United States Patent and Trademark Office ("USPTO") didn't quite keep up. The USPTO would routinely reject any trademark it considered scandalous, disparaging, immoral or offensive.
Two plaintiffs decided to challenge the USPTO's rejections. And they both won before the United States Supreme Court (SCOTUS).
The first case was Matal v. Tam, 137 S.Ct. 1744 (2017). Simon Tam is the founder of and bassist for an Asian American band called The Slants. Slant-eyed or slants are historically racist terms to refer to Asians. Tam named the band The Slants to "reclaim and take ownership of Asian stereotypes." The USPTO refused to register the trademark because it was disparaging to persons of Asian descent. Tam appealed all the way to SCOTUS and won. SCOTUS held that Tam had a right to use a disparaging term for his band under First Amendment Free Speech. There was a societal basis for choosing the trademark. It helps that the band has a fan base that understands the message of the name while enjoying their music. The band used a disparaging word to name themselves. The opinion did not address the questions of whether one can register a trademark that disparages another. For example, using the name "Redskins" for a sports team.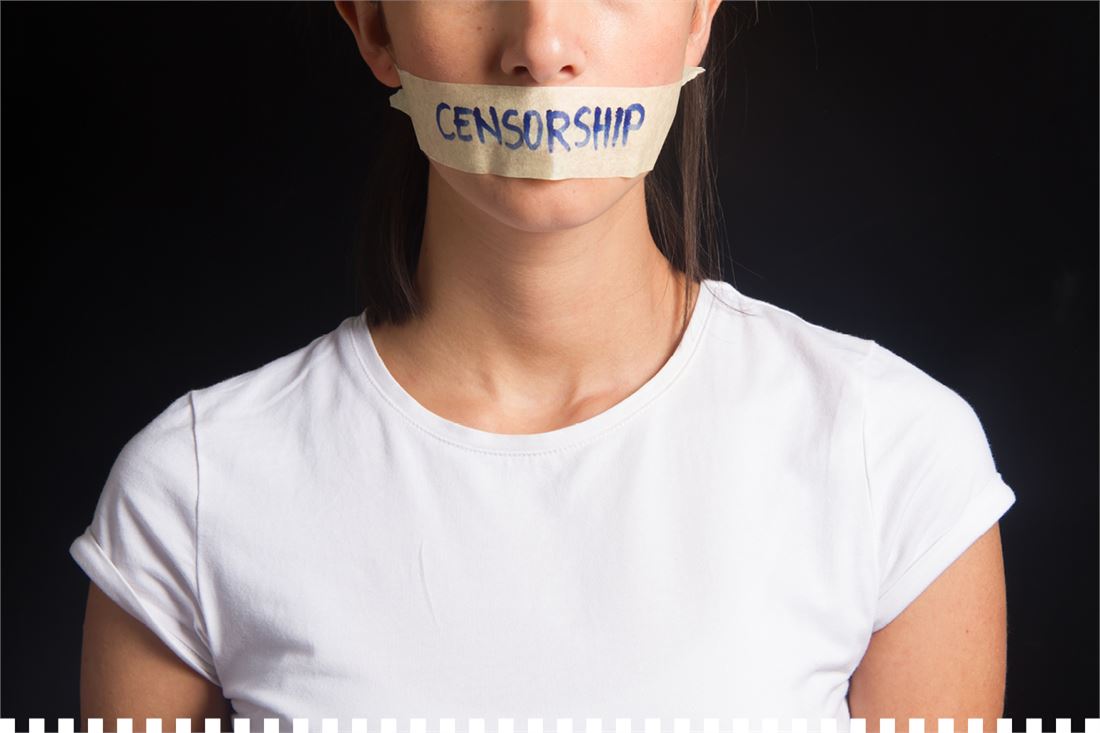 The companion case is Iancu v. Brunetti, 588 U.S. __, 139 S.Ct. 2294 (2019). Erik Brunetti wanted to register the word "FUCT" as a trademark for wearing apparel. The USPTO refused registration saying it was too "scandalous" because it was "extreme nihilism," evidence of "anti-social behavior" and "extreme misogyny". Brunetti appealed to the Trademark Trial and Appeal Board who affirmed the refusal. Brunetti then appealed to the Federal Circuit Court of Appeals who reversed the refusal. The director of the USPTO, Andrei Iancu, appealed to SCOTUS who affirmed the Federal Circuit thus allowing the trademark to proceed to registration.
Justice Elena Kagan, writing for the majority, adopted the reasoning in Matal v. Tam. Like the now-prohibited ban on disparaging trademarks, the USPTO's ban on scandalous marks was based on the viewpoint of the observer. Justice Kagan stated that the USPTO allows registration for trademarks that are consistent with society's sense of rectitude and morality. But the USPTO discriminates against trademarks that, in its viewpoint, don't fit into a standard of morality. The USPTO's viewpoint analysis is not neutral. Therefore, the prohibition against the registration of scandalous trademarks is an unconstitutional violation of First Amendment Free Speech. Brunetti's trademark projects a certain sensibility; one that Brunetti obviously believes his customers share.
To some degree, SCOTUS appears to side with George Carlin when it comes to questioning bans on certain words. However, neither opinion discussed the market impact of adopting a scandalous, offensive or disparaging trademark. Trademarks that don't fit into societal norms may be fun, interesting and good marketing tools. But, a trademark reflects the values of the owner of the products or services. So when choosing a trademark, know your customer base and be careful about the impression your trademark makes.
If you have questions or need additional information, please contact an intellectual property attorney at Golan Christie Taglia, LLP.

Golan Christie Taglia is built on a foundation of professional excellence and outstanding service. Each member of our team is committed to excellence and dedicated to achieving success for our clients. It is always gratifying when one of our own is recognized as exceptional, and we are pleased to share some recent accolades. Earlier this year, Leading Lawyers named 24 Golan Christie Taglia attorneys as Leading and Emerging Lawyers in Illinois for 2019, three of which (in bold) are new additions to the lists.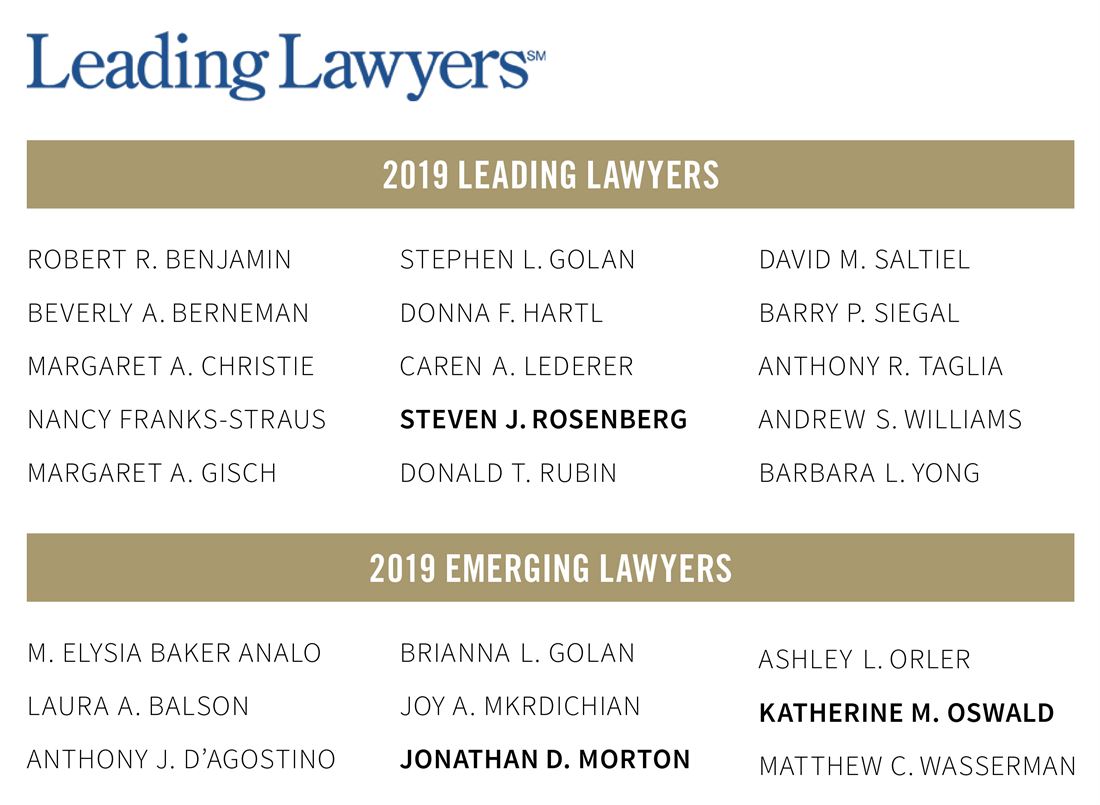 In recent months many of our attorneys have been referenced as TOP LAWYERS, WOMEN LEADERS and EMERGING WOMEN LAWYERS, as well as TOP LAWYERS IN INCOME TAX AND EMPLOYEES BENEFITS and EMERGING LAWYER IN CIVIL RIGHTS AND EMPLOYMENT LAW.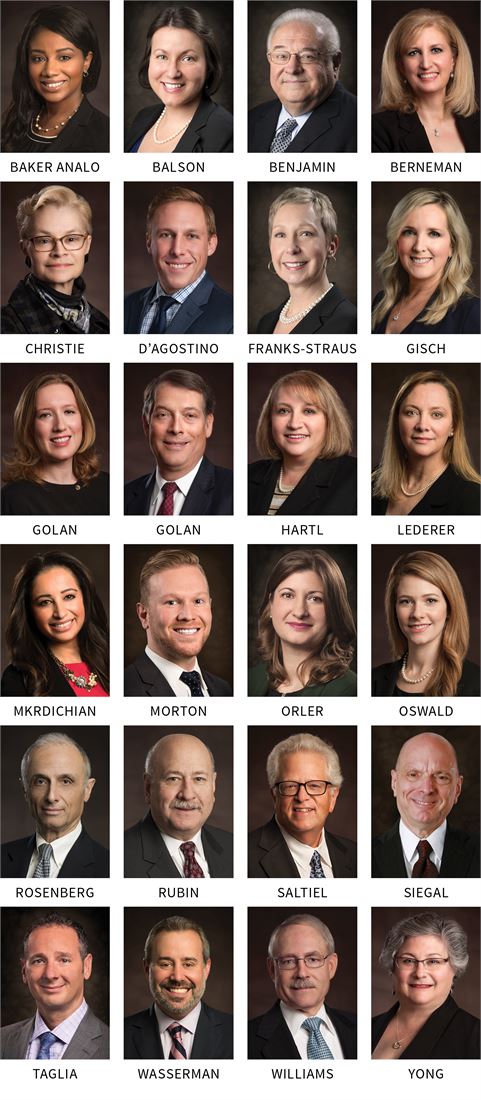 DAVID M. SALTIEL was named Best Lawyers' 2020 Lawyer of the Year in the practice area of Entertainment Law—Motion Pictures and Television in Chicago. This is the third time that David has been recognized as Lawyer of the Year.
ABA AWARDS OF ACHIEVEMENT

Our commitment to service extends into our communities, as well. GCT attorneys serve on a wide range of charitable organization boards and volunteer time and resources to many worthy causes. During KATHERINE M. OSWALD's term as a Chicago Bar Association (CBA) Young Lawyers Section (YLS) executive board member, the CBA YLS received Awards of Achievement from the American Bar Association in six categories.

Golan Christie Taglia is pleased to announce a new addition to our extended family: Joseph Stephen Ballard was born on Tuesday, October 15 at 12:22 am. He weighed in at 6 lbs 3 oz and 22 inches. Joseph is the first child of GCT attorney Brianna Golan and her husband Brian Ballard. We wish the Golan and Ballard families much health and happiness.

OUR FOCUS ON YOUR SUCCESS IS MORE THAN JUST OUR TAGLINE. IT IS OUR MISSION AND OUR COMMITMENT TO OUR CLIENTS. WE WOULD LIKE TO SHARE A CLIENT'S SUCCESS STORY THAT DEMONSTRATES THAT COMMITMENT.
GCT'S MULTI-FACETED EXPERTISE ACHIEVES SUCCESSFUL SALE OF FAMILY BUSINESS
CHALLENGE: A couple was contemplating selling their family business, and were feeling overwhelmed with how best to ensure that the sale resulted in the greatest value possible for their children. GCT needed to structure a sales package that worked in conjunction with the specific estate/tax planning needs that the family required be put into place.
STRATEGY: Many GCT attorneys have owned or led businesses and hold MBAs or CPAs themselves, so are able to effectively act as financial and business advisors in addition to providing legal counsel. By combining invaluable first-hand business experience with in-depth knowledge of commercial real estate and estate planning laws, the GCT team was able to play an active and crucial role in consulting and coordinating with private equity firms and accounting firms to help guide this client every step of the way. This approach ensured that informed, smart business decisions were implemented throughout the process and the resulting sales package was designed to successfully meet all the family's complex needs and goals.
RESULTS: The sales contract and estate planning strategies GCT created resulted in millions of dollars saved in tax liability for the client and nearly full value of the business realized for the children.