Articles & Publications
Copyright Small Claims Court: It's Almost Ready
March 10, 2022
On December 27, 2020, Congress enacted the Copyright Alternative in Small Claims Enforcement Act (CASE Act). The CASE Act establishes a small claims court for copyright infringement cases. The law requires the Copyright Office to establish a Copyright Claims Board within one year to hear the claims. The one-year mark has passed, but the Board is not fully functional yet. You can track the Copyright Office's progress here. Meanwhile, there is a lot we know about how small claims before the board will work. For instance, we know that the proceedings will be conducted like and have the effect of binding arbitration.
For what we do know, the following chart shows the differences between bringing a lawsuit in federal court versus a small claim: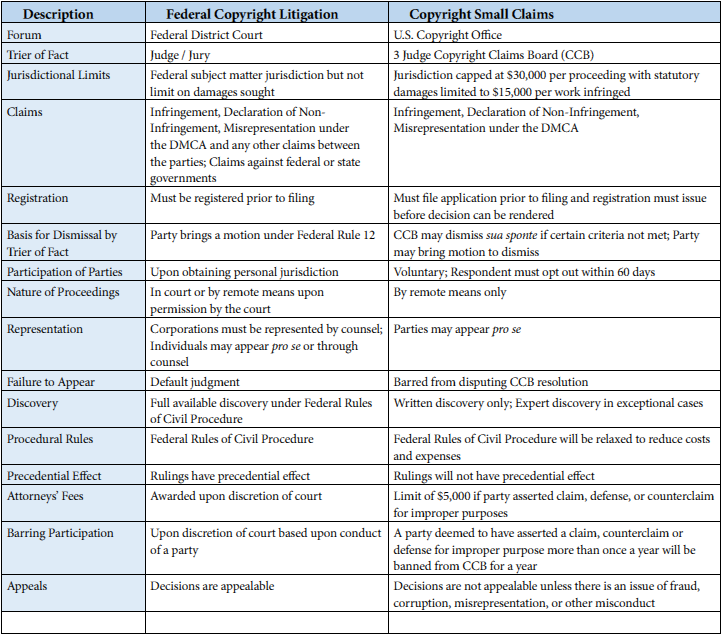 What we do not know yet are mostly open questions about the detailed functioning of the Board. The following is a short list of open questions:
Will the parties have a right to re-plead if a pleading is rejected by the Board?
Will a party be able to obtain relief from a default?
Is there an inherent contradiction with not allowing a ruling to have precedential effect and yet the parties will be bound by the Board's ruling?
How will the plaintiff be able to enforce the Board's determination?
How long will the Board's determination be effective for the purposes of enforcement?
What court will have appellate jurisdiction over appeals?
Many of these questions may be answered by the time that the rule-making phase of implementation is complete.
While we wait for the Board to become fully functional, a potential copyright plaintiff should begin preparing to bring a claim. Use this time to conduct a thorough investigation. Figure out who the defendant(s) will be and where they are located for service process. Begin preparing a complaint and discovery. With this type of preparation, potential copyright plaintiffs can be ready to take advantage of the CASE Act once the Board is ready to hear matters.