7th Circuit Decision Outlaws class action waivers in employment contracts


7th Circuit Decision Outlaws class action waivers in employment contracts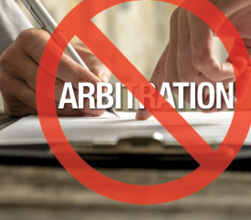 A recent Seventh Circuit Court decision may impact the enforceability of arbitration provisions in your employment agreements.
Decided on May 26, 2016, the Seventh Circuit Court held that mandatory arbitration provisions which preclude collective arbitration or collection actions violate the National Labor Relations Act ("NLRA") and are, therefore, unenforceable. The case, Lewis v. Epic Systems Corporation, No. 15-2997, 2016 WL 3029464 (7th Cir. May 26, 2016), deals a significant blow to employers who are concerned about frivolous class action litigation from employees. In Lewis, the employment agreement at issue required employees to "waive the right to participate in or receive money or any other relief from any class, collective, or representative proceeding" in connection with any wage-and-hour disputes, which the Court found violated the NLRA's protection of concerted activity.
In connection with the Lewis decision, all employers should review their current employment agreements, as any arbitration provision drafted before May 2016 may be at risk of being unenforceable.