NLRB's General Counsel Issues Guidelines For Employee Handbooks


NLRB's General Counsel Issues Guidelines For Employee Handbooks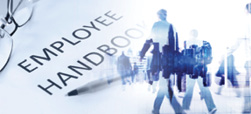 On March 18, 2015, the Office of the General Counsel for the National Labor Relations Board (the NLRB is the federal agency tasked with enforcing the National Labor Relations Act (NLRA), which, generally speaking, protects employees' right to discuss the terms and conditions of their work and to organize unions), issued a detailed memo concerning certain common employment policies that it considers overly broad and potentially illegal. The following are examples of the types of policies addressed in the memo:
Confidentiality Rules. The NLRB emphasized that employees have a right to discuss "wages, hours and other terms and conditions of employment." As a result, "broad prohibitions on disclosing 'confidential' information" to protect "the privacy of certain business information" are only acceptable if certain conditions are met.

Here is language the NLRB considers overly broad:

Do not discuss customer or employee information outside of work, including phone numbers and addresses.

On the other hand, here's an example of confidentiality language that is deemed acceptable by the NLRB:

No unauthorized disclosure of business 'secret' or other confidential information.

Restrictions on Leaving Company Property. Because the NLRA puts the ability to strike as one of workers' fundamental rights, policies that limit employees' ability to leave work are highly scrutinized:

Walking off the job is prohibited.

This language, however, is suitable in the NLRB's eyes:

Entering or leaving Company property without permission may result in discharge.

Employees' Criticism of Management. The NLRB notes that employees have the "right to criticize or protest their employer's labor policies or treatment of employees." As a result, the NLRB considers this policy problematic:

Be respectful to the company, other employees, customers, partners, and competitors.

But this statement is lawful:

Each employee is expected to work in a cooperative manner with management, coworkers, customers and vendors.

Employees' Interactions with Coworkers. In addition to the employee/manager relationship, the NLRB addressed language about employees' interactions with one another.

Here is an example of what the NLRB finds inappropriate:

Do not make insulting, embarrassing, hurtful or abusive comments about other company employees online, and avoid the use of offensive, derogatory, or prejudicial comments.

An example of what it thinks is appropriate:

Threatening, intimidating, coercing, or otherwise interfering with the job performance of fellow employees or visitors.
As the above examples make clear, there is a thin line between a policy that complies with the NLRA and one that potentially does not. Company handbooks should be reviewed annually, at least, and any changes should be discussed with an employment attorney.
To discuss how these issues apply to your company contact: Laura A. Balson, (312)696-1351, labalson@golanchristie.com or Margaret A. Gisch, (312)696-2039, magisch@golanchristie.com.