FROM OUR MANAGING PARTNER
Fall 2015 Newsletter
FROM OUR MANAGING PARTNER
Fall 2015 Newsletter
Summer's heat is behind us. Winter's chill has yet to set in. Right now it's the perfect temperature to sit back and enjoy our latest edition of the Golan & Christie Newsletter. Articles in this issue include:

If you have temporary workers in conjunction with staffing agencies, franchisors or contractors, your firm might now be considered a joint-employer based on a new standard set by the National Labor Relations Board.

Two recent changes may impact local businesses. First, Chicago is increasing the minimum wage every July 1st between 2015 and 2019. In the second change, the new Illinois Pregnancy Accommodation Act requires all employers to grant a reasonable accommodation to a pregnant employee unless it imposes an undue hardship on the company.

How can your firm gain a competitive advantage? Learn how to develop – and keep – an effective trademark.
We also invite you to learn about our newest attorney, Nicole Fundora.
If you have any end-of-the-year matters that need addressing or want to do some planning for 2016, please remember that our attorneys are just a phone call or email away. We look forward to hearing from you.
Stephen L. Golan
EMPLOYMENT UPDATE
NLRB Expands The Joint-Employer Standard
"Following the NLRB's decision... it will be difficult for companies to use temporary workers without being considered joint employers with the staffing agencies."
"As a result of this decision, many employers are concerned about the possibility that temporary workers will attempt to unionize, creating additional expense and challenges for both the temporary staffing agency and the client company."
EMPLOYMENT UPDATE
NLRB Expands The Joint-Employer Standard
BY GILLIAN G. LINDSAY
The contingent workforce in the United States has grown significantly; as of August 2014, 2.87 million temporary workers made up nearly 2 percent of the United States' workforce. To keep pace with the dramatic increase in contingent work, the National Labor Relations Board ("NLRB") expanded the jointemployment standard under the National Labor Relations Act ("NLRA").

Following the NLRB's decision in Browning-Ferris Industries of California, Inc., d/b/a BFI Newby Island Recyclery, Case No. 32-RC-109684, it will be difficult for companies to use temporary workers without being considered joint employers with the staffing agencies. Under the new standard, the right to control—even if never exercised—is sufficient to establish a joint-employment relationship.
In the Browning-Ferris case, the client company took precautions to maintain separateness from the temporary workers. The client service agreement required the staffing agency to provide onsite supervisors and HR support. The agreement also stated that the staffing agency was the sole employer and that nothing in the agreement could be construed as creating an employment relationship between the client and the temporary workers.
Despite these efforts to maintain separateness, the NLRB found a joint-employer relationship. In reaching its decision, the NLRB pointed to the following factors:
Facts Favoring A Single Employer:
Client and staffing agency employ separate on-site supervisors and lead workers who oversee their own employees.

Client and staffing agency maintain separate HR departments.

Staffing agency recruits, interviews, tests, selects, and hires its own personnel who are then assigned to client.

Staffing agency maintains sole responsibility to counsel, discipline, review, evaluate and terminate workers assigned to client.

Staffing agency issues paychecks and benefits to its workers.

Staffing agency provides specific employees to cover regularly scheduled and overtime shifts.

Staffing agency provides orientation and training for its employees.

According to the client service agreement, staffing agency workers shall not be assigned to client for more than six months.

Facts Favoring Joint-Employers:

The client service agreement provides that workers will meet client's standards, workers will meet or exceed client's selection process and tests, staffing agency will not refer employees who client deems ineligible for rehire, and staffing agency employees must pass a drug screening test.

Client retained authority to reject any personnel and discontinue the use of personnel for any or no reason.

Client prompted staffing agency to discipline workers on two separate occasions.

Client mandates that staffing agency may not pay its employees more than client employees who hold similar positions.

Client sets facility schedules.

Client representatives must sign off on employees' timesheets; Client may refuse payment for any employee who fails to obtain a Client signature.

Client determines the speed of the material streams.

Client sets a target headcount.

Client sets productivity standards.

Client sets the number of workers assigned to each stream.

Client managers identify productivity issues and communicate their concerns to staffing agency supervisors.

Staffing agency employees must comply with Client's safety policies, procedures, and training.

Client never invoked the provision that limits employee terms to six months.

Client may request to inspect staffing agency personnel files at any time.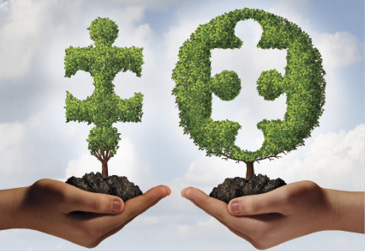 After analyzing the above factors, the NLRB applied its new rule that two or more entities are joint employers if they share or codetermine the matters governing the essential terms and conditions of employment. The NLRB no longer requires that this control be direct or immediate; instead, the board will consider whether the entity that uses temporary workers has control over the employees' work and terms of employment—even if that control is indirect and never exercised.
As a result of this decision, many employers are concerned about the possibility that temporary workers will attempt to unionize, creating additional expense and challenges for temporary staffing agencies and their clients. In spite of this change, however, temporary staffing agencies will likely remain a good business model for many companies. The NLRB's decision does not reduce the advantages of outsourcing human resource responsibilities, lowering unemployment and workers compensation expenses, and externalizing tax withholding and other costs associated with a traditional employment relationship.
Contact Gillian Lindsay, (312)696.1365, or gglindsay@golanchristie.com to discuss how the Joint-Employer Standard relates to your business.
Golan & Christie Welcomes New Attorney
Golan & Christie Welcomes New Attorney
Nichole Fundora joins Golan & Christie after recently passing the July 2015 Illinois Bar exam. Her practice will focus on business law and corporate governance, mergers and acquisitions, and intellectual property. Ms. Fundora received a B.B.A. with a concentration in marketing from Saint Mary's College in Notre Dame, Indiana, and a J.D. from Chicago-Kent College of Law. While at law school, she worked at the Law Offices of Chicago-Kent's Entrepreneurial Law Clinic where she helped represent entrepreneurs in transactional matters common to startup companies. Before coming to Golan & Christie, Ms. Fundora served more than a year as a law clerk for Zurich North America's in-house legal team.

City Of Chicago Minimum Wage Rate Now $10 Per Hour, Will Increase To $13 Per Hour
City Of Chicago Minimum Wage Rate Now $10 Per Hour, Will Increase To $13 Per Hour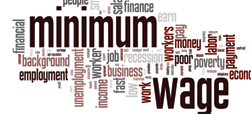 Since July 1, 2015, all Chicago employees must be paid at least $10 per hour. The new minimum wage ordinance applies, with limited exceptions, to any business that maintains a facility within the City of Chicago and/or is required to obtain a business license, as well as any employees who work in Chicago for two hours or more during a two-week period (which includes making deliveries or sales calls).
The ordinance also includes further increases, scheduled to take effect on July 1st of each year, gradually increasing the minimum wage to $13 per hour by July 1, 2019.
The minimum wage in the rest of the state, outside of Chicago, remains $8.25 per hour, though there is a proposal pending in the state legislature to gradually increase that rate as well.
OBLIGATIONS UNDER THE ILLINOIS PREGNANCY ACCOMMODATION ACT
Earlier this year, Illinois amended its Human Rights Act to create additional protections for pregnant employees and new mothers. The amendment imposes duties on any employer that employs more than one person and protects all employees, including part-time, full-time, probationary employees and job applicants.
The amendment prohibits employers from refusing to hire pregnant employees, segregating pregnant employees, or considering pregnancy when promoting, renewing employment or selecting employees for special training. The amendment also prohibits discriminating and retaliating against a pregnant employee. When a pregnant employee returns from leave, employers must reinstate the employee to her original job, or to an equivalent position with equivalent pay and accumulated seniority and other benefits, unless the employer can demonstrate that doing so would impose an undue hardship upon the company.
Similar to the requirements under the Americans with Disabilities Act, employers must grant a reasonable accommodation to a pregnant employee unless it imposes an undue hardship on the company. However, employers cannot require pregnant employees to accept an accommodation that she did not request or that she chooses to decline.
There are many types of accommodations that pregnant employees can request. Some examples include, but are not limited to: (a) frequent or longer bathroom breaks; (b) increased water breaks; (c) light duty; (d) temporary transfer to a less strenuous or hazardous position; (e) acquisition or modification of equipment; and (f) leave related to pregnancy or recovery after the pregnancy. It is important to note that Illinois already has a separate statute known as the Nursing Mothers in the Workplace Act that requires all employers to provide nursing mothers with reasonable unpaid break time to express milk and a private room (not just a toilet stall) in which to do so.
Employers should consider many factors when determining if there is an undue hardship upon the company, including: (a) the nature and cost of the request; (b) the overall financial resources of the employer with respect to its number of employees and the number, type, and location of its facilities; and (c) the type of operations of the company.
The Illinois Department of Human Resources requires employers to post a Pregnancy Rights Notice Requirement sign in a conspicuous place advising employees of their rights under the new law. The poster is available for download at: http://www.illinois.gov/dhr/Publications/Pages/Pregnancy_Rights_Notice_Requirement.aspx
If you have questions or need additional information, please contact an employment attorney at Golan & Christie.

How To Develop (And Keep!) An Effective Trademark
How To Develop (And Keep!) An Effective Trademark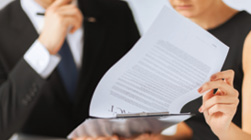 The marketplace can be a relentless barrage of trademarks such as brand names, logos and taglines. How can a business distinguish itself in the melee? A well-developed trademark can give a business a competitive advantage. Businesses that develop their trademarks, register them and protect them can distinguish themselves in the marketplace, attract customers and build brand loyalty. The key, of course, is how to go about choosing and developing an effective trademark.
Here are some things to keep in mind:
Create a Strong Trademark. Trademarks can be analyzed on a spectrum of protectability. At one end of the spectrum are the strong marks. These marks are fanciful, arbitrary, invented or suggestive. For instance, Xerox is a made up word. It has such as strong brand identity that Xerox Corp. zealously protects against using the word as a substitute for the verb "copy". Another example of a strong mark is "Apple" for a technology company. Here, the mark consists of a noun that has no real association with the products. At the other end are descriptive and generic marks. Descriptive marks merely describe an attribute of the product or service. Generic marks are the common name for the product or service. Descriptive and generic marks are weak by their very nature and thus should be avoided.
Make Sure No One Else is Using the Trademark. Using a mark that is already registered or used by a third party creates two major problems. The first is that third party use may diminish the value of a mark. Second, and more importantly, someone who is already using the mark has a basis to demand that the business cease using the mark and rebrand. Rebranding can be a costly and time consuming enterprise. Better to be safe by conducting due diligence at this early stage.
Register the Trademark. Registration establishes rights related to a specific class of goods or services. This relates directly to building a strong brand. Further, registration bolsters the value of the trademark and thus the value of the business.
Monitor the Trademark. In order to maintain rights in the trademark, the business has to use it and make sure no one else is using it. Each unauthorized, competing use diminishes the value of the trademark.
These simple steps can help build a strong trademark that establishes a business' position in the marketplace.
To discuss how these issues apply to your company contact: Beverly A. Berneman (312)696-1221, baberneman@golanchristie.com